Digital tools can increase the efficiency of construction enormously. Komatsu bundles all of its digital solutions for construction companies under the Smart Construction umbrella. Almost a dozen digital tools improve company processes and have also been available in Europe since summer 2020.
There is a lot of talk in the construction industry about autonomous and electric construction machines – these striking technologies were also the dominant topics at bauma 2019 – but many of these discussions ignore the actual problem, the low productivity in the construction industry due to processes in need of improvement. Digital tools are able to accelerate construction processes and make them more efficient. This can be seen, for example, in 2D and 3D machine controls. Machines equipped with digital tools or even networked machines alone cannot increase construction productivity, but they are a basic prerequisite for firstly improving construction processes and secondly being able to map them digitally.
Even if autonomously working construction machines are attractive from a business point of view – personnel costs are also the largest cost factor in construction companies – Komatsu has decided to take a different approach. The Japanese don't believe that just building autonomous machines will be enough. Komatsu continues to develop its autonomous machines, but believes it is far more important to investigate how the construction site and the processes that make up a construction project can be made leaner, more efficient and more sustainable. Having an overall view, not only visually but also in the form of data, is crucial in order to optimally coordinate all individual processes and bring safety and efficiency to the construction site of the future.
Map the construction process digitally
Under this premise, Komatsu has developed the "Smart Construction" solutions that can be used to digitally transform the processes of today's construction sites; the drone measurement and the integrated 3D machine control are part of it. However, Komatsu is convinced that these highly assisted systems only make sense if the data required for them is generated and transmitted completely digitally – without media breaks, i.e. switching between digital data and paper. The data from Komatsu's iMC machine control, for example, is collected in the "Smart Construction" platform, displayed and transmitted to other software via interfaces for further processing – also important for quality assurance and billing. Komatsu wants to gradually advance the development of autonomous construction machinery and link it to the gradual shift towards digital construction site data. At the end of this development there is the complete digital transformation of earth movement.
For the official launch of its digital construction site solutions on the European market, Komatsu is working with its regional dealers and has selected the first four partners to start with: In addition to the German dealer Schlueter, there are Komatsu France, the British dealer Marubeni-Komatsu Limited and the Danish Scantruck A /p You will support clients in the UK, Germany, France and Denmark in adopting smart construction solutions. Other Komatsu dealers in Europe will then also become "Smart Construction" partners as soon as possible and show their customers the way to an optimized digital way of working. In Germany, some companies have already gained initial experience with the solutions.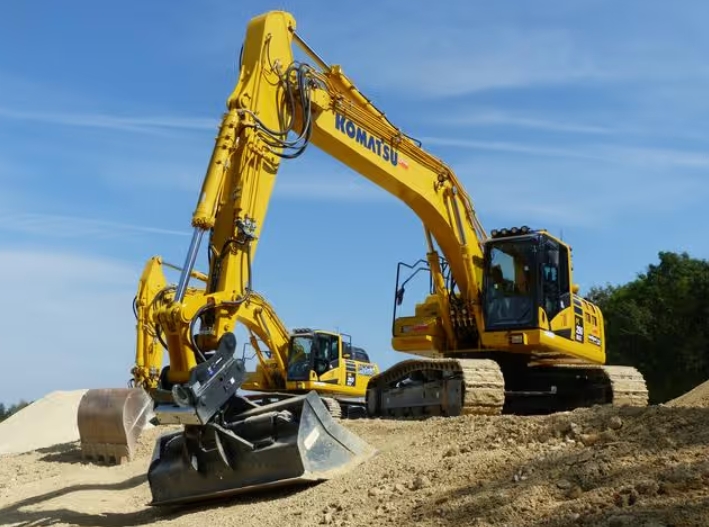 Digital solution for the shortage of skilled workers
With the help of "Smart Construction", companies can optimize the way they work and collaborate, both internally and with subcontractors. "Smart Construction" is a joint development: Together with Landlog, an open IoT (Internet of Things) platform for connected construction sites that Komatsu has launched together with SAP, OPTIM and NTT docomo, Komatsu has developed "Smart Construction" specifically for the construction industry and created as an open project in which 22 startups and the above-mentioned technology companies worked together. From this, a whole series of solutions was developed, which were then subjected to field tests at Komatsu customers around the world.
Smart Construction was first introduced in Japan in 2015 to make construction more efficient and to find a solution to the glaring labor shortage. There are now over 10,000 job sites in Japan, the US and Europe using Komatsu solutions. If Komatsu has its way, construction companies around the world should soon be able to work more safely, more productively and more reliably thanks to "smart construction" solutions – and at the same time effectively counteract the shortage of skilled workers. In May 2020, the second version of "Smart Construction" was launched in Europe, consisting of the following digital solutions – software applications and IoT devices – which will be gradually launched and continuously developed over the next few years should be.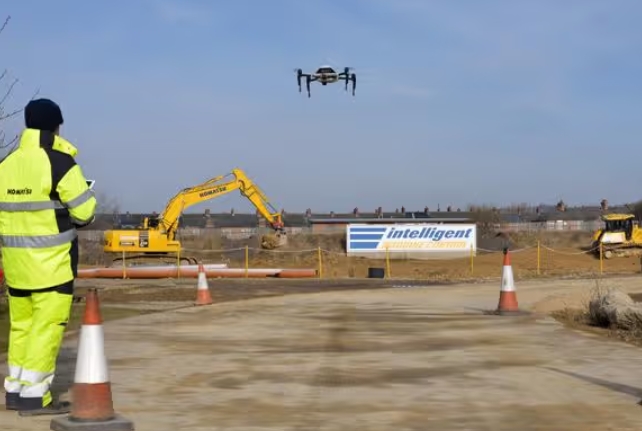 All digital solutions under one roof
Smart Construction Design – Switch from plans on paper rolls to 3D representations and use other functions based on 3D data.
Smart Construction Remote – The site manager can send new terrain data to the machines on the construction site via the mobile network – even when the machines are switched off, for example to put new data online in the evening and then have it on the machine at 6:00 a.m. in the morning To have the machine – or to support the machine operators via remote maintenance without having to be on site. Short-term training courses are also possible in this way. Komatsu has already sold the first licenses to use Remote.
Smart Construction Dashboard – Dashboard allows users to visualize site data, drone and machine data to determine construction progress, excavation/paving, quantities and productivity. This also helps companies with regular performance reports for internal calculations and billing. By regularly comparing the target and actual status, you create a digital twin, so to speak, a mirror image of your construction site.
Smart Construction Fleet – With this solution, which should be available in a few months, companies can collect data to optimize fleet and production – this can be done with a black box in the machine or a smartphone. A mobile app is available for the latter. "Fleet" is primarily about location data for machines and vehicles. For example, the routes of ground transport can be planned, with all devices with loading and unloading points being visualized in a dashboard-like manner. Material types and quantities, special events such as a traffic jam on the route (conditions) can be entered interactively. Bottlenecks in the construction process thus become visible.
Smart Construction Insight – Shows construction progress, productivity and profitability of different construction sites. "Insight" is the digital tool for management, in which knowledge about all ongoing construction sites is brought together.
Smart Construction Simulation – Complete construction sites can be simulated before the groundbreaking ceremony. This method corresponds to the Japanese Kaizen philosophy, the principle of continuous improvement by means of "plan-do-check-act": draw conclusions from the previous data set and learn from them for further action. Processes, machines and routes on the construction site are defined in such a way that earth movement is optimised.
Smart Construction Retrofit – Retrofit machine controls for any make and model of excavator, enabling 3D control and operator support. In the future, construction companies will be able to get the 3D control solution they want – even for third-party products – directly from Komatsu.
Smart Construction Rovers – cost-effective, high-quality 3D rovers for construction workers. The surveyor does not become superfluous as a result, but he can concentrate on the essential activities corresponding to his training, while simpler surveying work can now be carried out by many employees thanks to modern, simple GNSS rover.
Smart Construction Edge – A 3D terrain model can be quickly generated from drone data directly on the construction site and uploaded to the SC cloud without the tedious laying out of control points and their measurement and recalculation during flight processing. The site manager can do this himself, no surveying know-how is required for this, but a drone driver's license; From 2021, new, uniform EU regulations will apply.
Smart Construction Field – Use cost-effective project management, cost tracking and support for quoting, managing and resource planning of projects. The foreman or site manager can collect data with his mobile device, which is then presented in a consolidated form: photos, daily reports, delivery notes, machine and personnel, incidents, description and documentation of any supplements, schedule and much more.
Smart Construction AR – The mobile app planned by Komatsu should make it possible to determine the construction progress on the construction site. This is done by comparing the current state with the target state using augmented reality (AR).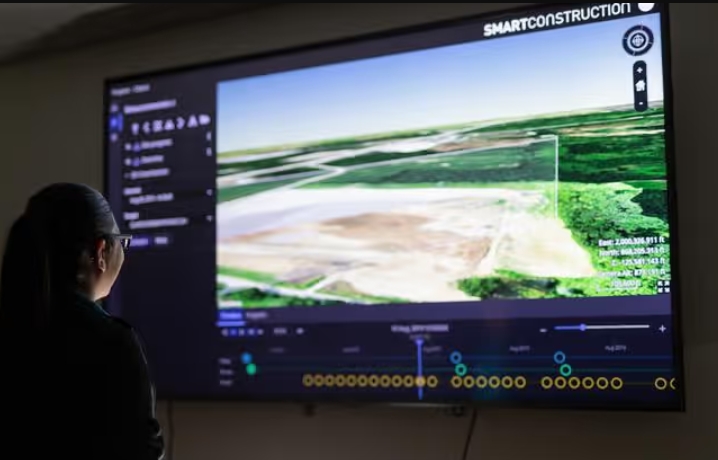 Manage construction data in the cloud
The smart construction solutions should be able to be seamlessly integrated into the customer's existing work processes to enable collaboration and digitization. The corresponding data is managed on a common data platform, the smart construction cloud. This allows employees to work together on projects at different locations. Everyone gets the same up-to-date information from a single source. So that construction companies do not endanger their ongoing work processes in their efforts to digitize, they are accompanied and supported by smart construction experts from both Komatsu Europe and its dealers on the way from the mainly manual to the fully digital way of working. Komatsu, in turn, takes feedback from its customers and uses it to improve smart construction solutions.
"One can no longer escape the digitization of the construction industry with one's eyes," – Karsten Elles, Head of Business Development iMC and Smart Construction at Komatsu Europe.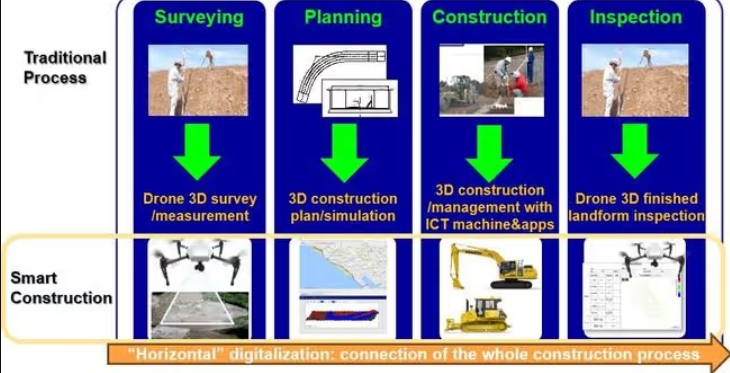 Networking of all those involved in construction
While the first version of Smart Construction, only available in Japan, digitized only part of the construction process by only converting traditional enterprise-level processes into digital processes – for example from manual to drone surveying or from paper plans to 3D simulation – the new ones enable IoT devices and apps of the current smart construction version digitize the entire construction process in such a way that cross-company processes are linked; this is also called horizontal digitization. This "toolbox" of digital solutions, designed for cooperation, gives everyone involved in the project access to the necessary data. Processes on the construction site are optimized by synchronizing the real construction site with its digital twin. This can increase safety, productivity and environmental protection throughout the construction site. In the next step, the digitized construction sites can be networked with each other. Komatsu wants to further develop the smart construction solutions and is currently experimenting with automated and autonomous machines as well as with optimized processes in order to be able to provide tools that perfectly match its customers' machines and employees and make their workplaces even safer, more efficient in the future , smarter and cleaner.