Construction sites across the globe rely on heavy wheeled loaders, and operators now have a wide array of innovative machine options from manufacturers to choose from.
During the Bauma Munich event in October 2022, Komatsu Europe showcased their latest offering, the WA800-8 wheeled loader. This loader is specifically designed to prioritize maximum operating comfort and incorporates advanced features such as a modulation clutch, variable traction control, auto kick down, and RPM set.
In addition, the Japan-based company has given the machine's extra-large 11.5m³ bucket a redesign, incorporating an optimized maximum fill feature. Weighing in at 115 tonnes, the WA800-8 fully complies with the latest EU stage V emission regulations, thanks to the integration of a Komatsu-engineered engine and after-treatment system.
Jo Monsieur, the group manager for large machines at Komatsu Europe, expresses appreciation for the WA800's long-standing reputation for reliability and productivity. Monsieur further emphasizes that the latest generation of the machine upholds this legacy while setting new standards in terms of stability, comfort, and safety.
Performance enhancements on heavy wheeled loaders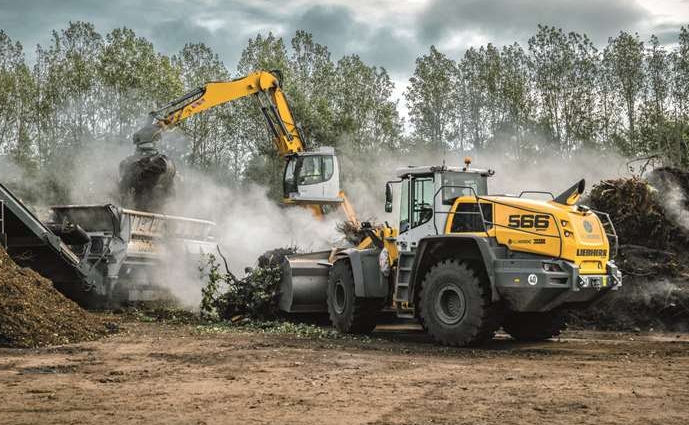 Liebherr's XPower wheeled loaders have earned a prominent position in terms of fuel efficiency and durability. According to Liebherr, one of the contributing factors is the inclusion of a power-split travel drive, which is a standard feature in all Liebherr XPower wheeled loaders. This unique combination of hydrostatic drive, ideal for material handling and short-distance travel, along with mechanical drive, ensures that the machine operates at optimal efficiency.
Liebherr provides a variety of intelligent assistance systems for its mid-size and XPower wheeled loaders, in addition to the two drive types. One notable system is the active personnel detection with brake assistance. This optional feature utilizes sensors and artificial intelligence to differentiate between people and objects in the rear area of the machine, enhancing safety. When a potential hazard is detected, the system warns the operator and automatically decelerates the wheel loader's speed through the brake assistant. This proactive measure significantly reduces the stopping distance, minimizing the risk of accidents and their severity.
RGS Nordic, a specialist in recycling construction and demolition waste materials, relies on 40 Liebherr XPower wheel loaders for efficient material handling in Denmark. Michael Jørgensen, the strategic purchasing manager, expressed satisfaction with the loaders, noting their fuel efficiency, power, and minimal downtime. He highlighted the impressive productivity achieved, as these wheel loaders deliver 30% higher productivity while consuming the same amount of fuel compared to other loaders of similar size.
RGS Nordic was actively seeking fuel-efficient wheel loaders with power-split drive to minimize CO2 emissions. As a company dedicated to converting construction waste into reusable and circular products, they prioritize sustainability and integrating materials into the product cycle. Therefore, it was crucial for the machinery they employed to align with these values and contribute to their environmental objectives.
Maximising capacity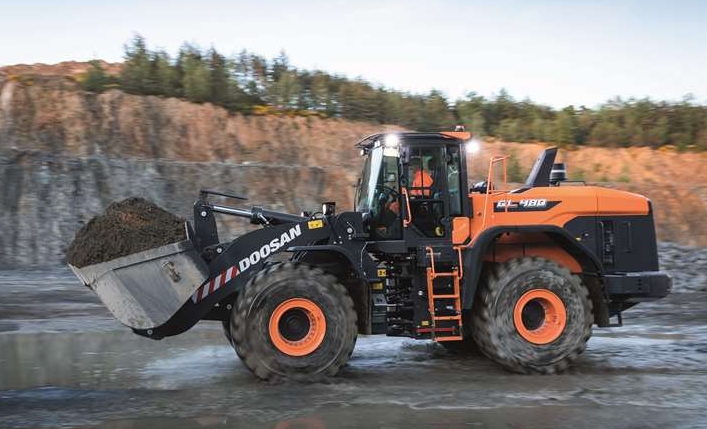 Develon, previously known as Doosan Construction Equipment, has introduced its latest DL-7 wheel loader range, featuring state-of-the-art Stage V compliant engines. These new loaders offer improved productivity, enhanced fuel efficiency, and a cost-effective ownership experience. Additionally, the DL-7 range includes a redesigned cab that provides operators with an enhanced working environment and overall experience.
Develon's DL-7 range comprises four major standard models: the DL420-7, DL480-7, DL550-7, and DL580-7. These machines are equipped with redesigned buckets that offer a capacity increase of up to 7%. With maximum bucket capacities ranging from 4.5 to 6.4 m3, these loaders provide enhanced productivity for various material-handling tasks, catering to a wide range of applications.
Develon has expanded its offerings beyond wheel loaders by introducing the revolutionary "transparent bucket" system, claimed to be the world's first of its kind. This innovative system allows wheel loader operators to see the blind spots in front of the bucket through a monitor installed in the cab. By capturing images from cameras positioned on the top and bottom of the front-loaded bucket and projecting a combined real-time image using a curved projection method, the transparent bucket system provides a comprehensive view for the driver, enhancing safety and visibility.
According to Develon, the transparent bucket system has been developed to tackle safety concerns arising from blind spots in front of wheel loaders caused by their buckets. By incorporating this innovative feature, drivers can conveniently monitor the blind spots in front of the bucket through the cab monitor. This enhancement significantly improves safety measures and helps minimize accidents associated with limited visibility.
Furthermore, the transparent bucket system is designed to boost work efficiency by offering a clear front view to the driver during various operations such as loading, unloading, and transporting materials like aggregates, sand, and soil. Develon has taken steps to protect its innovation by applying for patents in key regions including Korea, North America, Europe, and China. This achievement establishes Develon as the pioneering company to develop and implement a front projection function with a transparent bucket for construction machinery.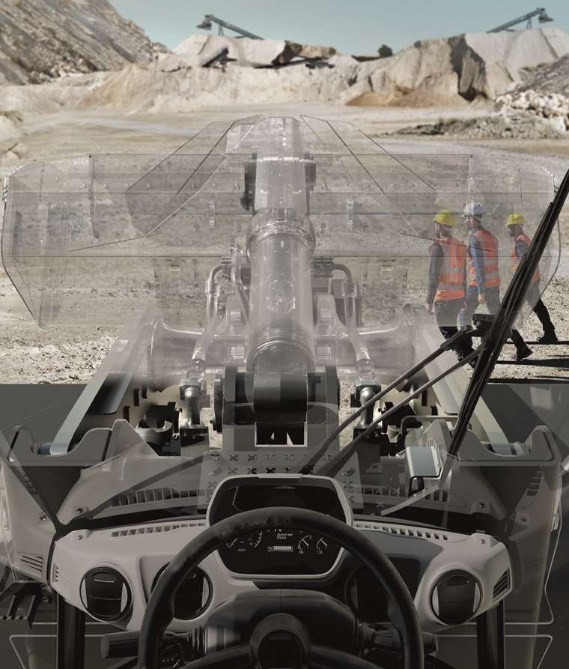 According to a spokesperson from Develon, the growing emphasis on safety standards has made advanced safety systems a critical factor in equipment selection. In line with this, the company remains committed to further advancing safety features that prioritize the well-being of drivers and workers. By doing so, Develon aims to take a leading role in promoting safer construction sites and working towards accident-free environments in the industry.
What are the electromobility solutions for heavy wheeled loaders?
Volvo Construction Equipment (Volvo CE) has made significant progress in its electromobility initiatives by introducing a new solution. In response to the growing need for sustainable options in the mid-size range, the company has transformed its L120 wheel loader into an electric variant. This conversion project was carried out in collaboration with partners Parker Hannifin and CE Engineering Solutions, a subsidiary of the Volvo Group.
Starting from 2023, selected customers in Europe will have access to the L120H Electric Conversion, which offers equivalent performance to the traditional machine but with zero emissions. Volvo CE is dedicated to realizing a carbon-neutral construction industry and is actively collaborating with CE Engineering Solutions and other electromobility partners to accelerate the availability of commercial electric solutions across various segments and applications. This partnership aligns with Volvo CE's strategy to expand its range of electric wheel loaders, building upon its investment in Limach, a Dutch manufacturer, in June to enhance its electric excavator portfolio.
With the introduction of the L120H Electric Conversion, the construction industry can anticipate a multitude of advantages. These include a significant reduction in noise pollution, lower operational expenses, and enhanced productivity. The electric powertrain of the machine delivers instant torque, resulting in improved responsiveness and efficiency compared to conventional combustion engines. Moreover, the electric version is engineered to demand less maintenance, minimizing downtime and maximizing equipment availability for optimal utilization.
Equipped with powerful 240 kWh batteries, the L120H offers a runtime of approximately five hours in typical medium-duty applications. Aligning with Volvo's current charging solutions, it is projected to charge from 0 to 100% within a remarkably swift timeframe of 1.5 to 2 hours. This ensures minimal downtime and keeps the machine operating efficiently for extended periods.
'Change starts here'
According to Carl Slotte, the Head of Sales Region Europe at Volvo CE, the need for immediate action is evident. He emphasizes the importance of providing solutions that enable customers to reach their decarbonization objectives without delay. Slotte believes that change begins right now, and Volvo CE is committed to leading the way in delivering sustainable construction equipment.
Volvo CE is dedicated to fostering partnerships that enable the company to be at the forefront of industry transformation. By offering electric solutions that meet market demand and cater to the evolving requirements of customers, Volvo CE is taking a leading position in the sustainable construction sector. Through collaborative efforts, the company is expanding its lineup of electric machines, enhancing the versatility of its product range, and driving the industry towards a carbon-neutral future.
Volvo CE acknowledges the potential for converting existing L120H wheel loaders to electric power based on market demand. In addition to prioritizing sustainability, the company is actively investing in the enhancement of safety systems for their wheeled loaders.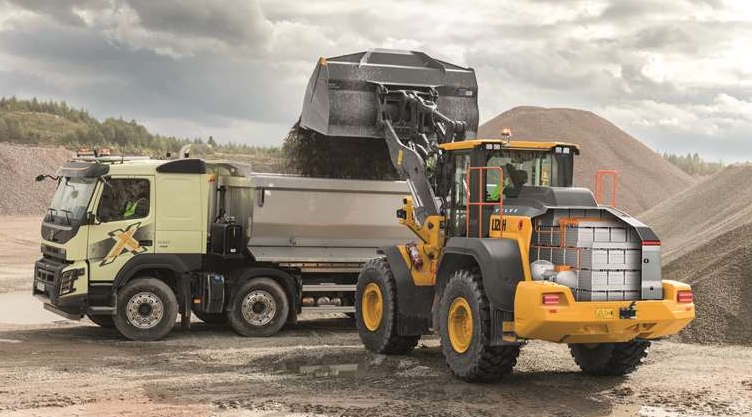 Volvo CE has introduced the Collision Mitigation System for Volvo Wheel Loaders, a safety feature designed to assist operators and minimize the likelihood of collisions while operating in reverse. The system automatically engages the service brakes as the wheel loader detects an obstacle, effectively reducing the impact of accidents and minimizing unexpected interruptions.
The purpose of the system is to enhance job site safety by ensuring smooth stockpiling operations through its ability to recall the previously climbed slope. Volvo CE emphasizes that the system can be temporarily disabled to accommodate specific site conditions, and it is only active when the wheel loader is in reverse and traveling at speeds between 3-15 km/h. The Collision Mitigation System is offered as a factory-installed option for various Volvo wheel loaders and is accessible worldwide.
According to Lars Eriksson, global product manager for wheel loaders at Volvo CE, the company is dedicated to actively creating intelligent solutions that not only minimize the impact of accidents but also aim to prevent them entirely. He further states that the introduction of the Collision Mitigation System is a significant step in their efforts to reduce the risk of accidents and uphold their commitment to achieving zero accidents.
Volvo CE has internally developed the Collision Mitigation System specifically for its range of wheel loaders. This option is available as a factory fit on models such as the L110H/L120H with OptiShift, L150H, L180H, L220H, L260H, and L200H High-Lift wheel loaders. The system relies on the installation of a Radar Detect System and complements the existing array of features, options, and site services offered by Volvo CE to enhance job site safety and minimize unexpected disruptions.
The market for heavy wheeled loaders is experiencing a flurry of activity. Enhancements and innovations are being introduced from various directions, addressing a wide range of needs. It is an exciting period for equipment development, and there is anticipation for further advancements throughout the year.