Kubota Introduces New Compact Tractor Series with Enhanced Controls and Operator Comfort Features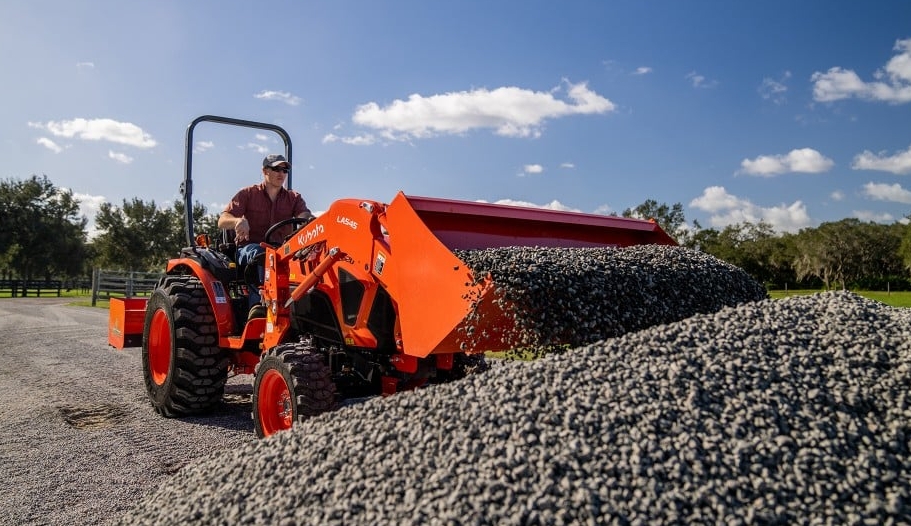 The LX3520 boasting a robust 35-horsepower engine
The LX20 Series represents a fresh lineup of compact tractors that have been entirely crafted by Kubota, featuring a range of innovations aimed at enhancing user value.
The LX20 series kicks off with the LX3520 and LX4020 models, offering 35 and 40 horsepower choices. These models come equipped with enhancements like improved operator comfort, advanced control features, noise reduction, enhanced loader operation, and increased travel speed. Additionally, Kubota has introduced the LX3520 Narrow variant, specifically designed with a width of less than 40 inches to facilitate maneuvering in confined spaces with ease.
Chris Isaac, the Product Manager for Compact Utility Tractors at Kubota Canada, expressed:
"The new LX20 Series models embody the fundamental principles of Kubota's compact tractor lineup, emphasizing quality, durability, and performance. With a wide range of implements available, the LX3520 and LX4020 offer exceptional versatility, making them indispensable tools for property maintenance, material handling, and transportation tasks. These machines strike a perfect balance in terms of size, allowing users to operate efficiently in tight spaces while maintaining power, performance, and comfort."
The LX20 Series takes operator comfort to the next level with its integrated cab, incorporating noise reduction features. The 4-pillar design with curved glass offers ample space and panoramic views to the operator. Additionally, the high-back suspension seat is specially engineered to absorb shocks, reducing operator fatigue. The spacious, flat deck ensures generous legroom and facilitates effortless entry and exit through the wide door opening. These tractors are equipped with ergonomic lever grips and a steering wheel for easy access, ensuring smooth and low-vibration operation across various applications. Moreover, powerful LED work lights enhance visibility during nighttime work.
Both the LX3520 and LX4020 models feature an independent PTO switch, which operates without the need for a clutch, making engagement and disengagement effortless while in operation. These tractors are equipped with Kubota's trusted three-range HST transmission, ensuring optimal speed control. Additionally, the LX20 series offers compatibility with Land Pride's Quick Hitch, a valuable feature that significantly simplifies the process of swapping out rear implements, reducing the time required for such tasks.
The 35- and 40-horsepower models cater to a wide range of requirements and showcase an enhanced 3-point lift capacity, boasting an impressive 1968 pounds—almost 300 pounds more than the current LX3310 model. Kubota's 4-Point Quick Connect Front Hitch facilitates swift attachment and detachment of front PTO-driven accessories, while the dual engine memory switch enables operators to easily fine-tune the engine RPM with a simple button press. The newly introduced brush guard option not only adds a stylish touch but also acts as a protective shield for the bonnet and grille. Additionally, the auto throttle feature synchronizes the engine speed with the travel speed, granting operators precise control over engine RPM using the HST pedal.
The LA545 loader, designed and manufactured by Kubota specifically for the LX3520 and LX4020, features premium valving. This design enables simultaneous operation of the loader's boom and bucket, aided by a regenerative circuit that enhances operator comfort during use.