With a weight surpassing that of the Eiffel Tower, towering as high as a 20-story building, and possessing the power equivalent to 50 Mercedes Actros trucks, the world's largest construction machine is an awe-inspiring feat of engineering. These colossal machines are true titans of their field, capable of moving vast quantities of materials in record time. Each machine has been carefully crafted and tailored to a particular purpose, whether it be lifting heavy loads, flattening expansive terrain, or shifting mountains.
Bucket Wheel Excavator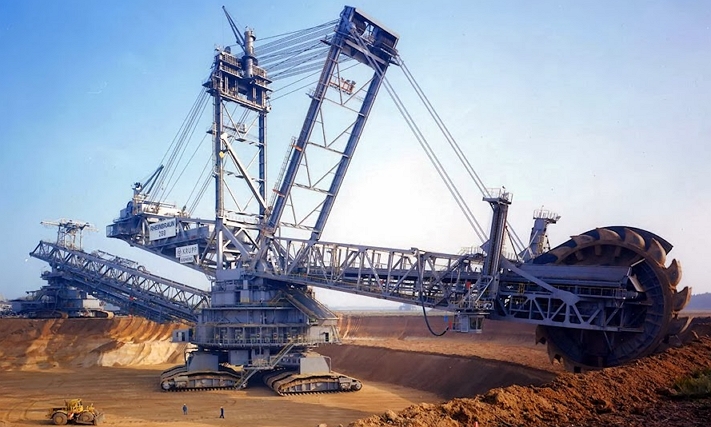 The world's largest construction machine is the excavator 293, which was constructed in 1995 by TAKRAF, the successor company to the East German combine TAKRAF. Boasting a towering height of 96 meters and a length of 225 meters, the Bagger 293 is not only the largest excavator globally, but also holds the title for the biggest and heaviest land vehicle, according to the Guinness Book of Records. Weighing in at a massive 14,200 tons, it outweighs the Eiffel Tower in Paris, which tips the scales at 10,100 tons. The excavator 293 is deployed in the lignite opencast mine located in Hambach.
The Liebherr T 282C dump truck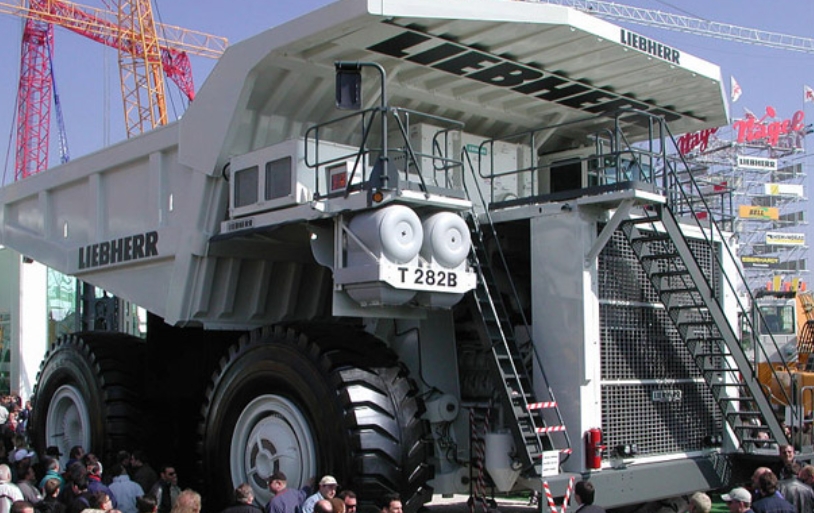 The machine is among the world's biggest construction machines. Its massive dimensions include a length of 14.5 meters, width of 8.7 meters, and height of 7.4 meters. The truck can carry a load of up to 364 tonnes and weighs a total of 592 tonnes.
The Caterpillar 797F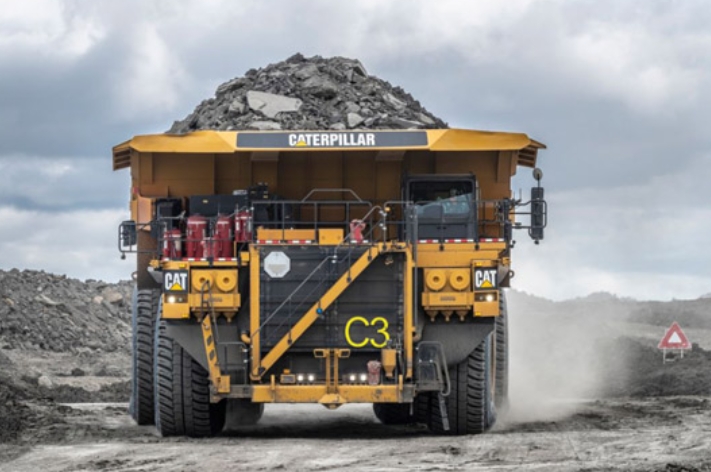 This model dump truck is another impressive machine in the world of construction. It boasts a loading volume of 363 tons and a total weight of 687 tons. With dimensions of 15.6 meters in length, 9.7 meters in width, and 7.4 meters in height, it stands tall alongside the Liebherr T 282C and the excavator 293, and is impossible to miss.
The Caterpillar 6120B H FS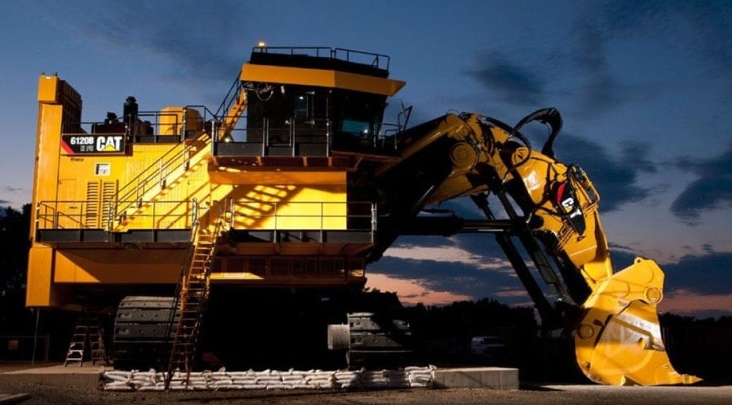 This machine holds the title for the world's largest hydraulic front shovel. Weighing in at 1,270 tons and with a bucket capacity of up to 65 m³, it's an impressive feat of engineering. However, it's worth noting that the 6120 is a prototype.
The Komatsu D575A-3SD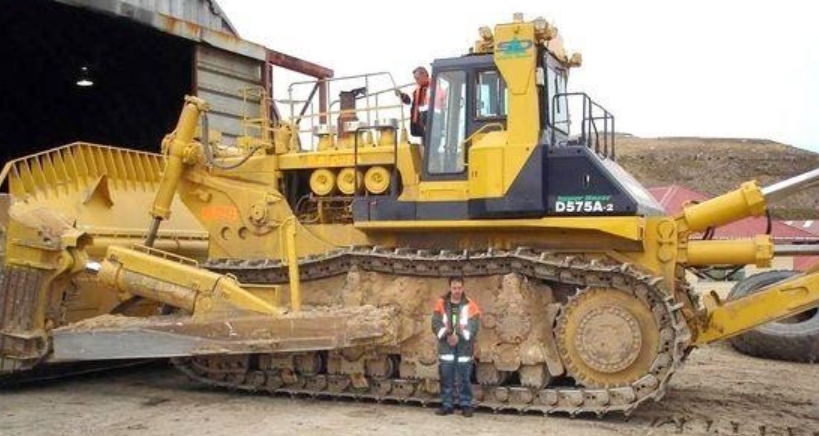 Hailing from Japan's Komatsu Ltd., the bulldozer is equipped with a diesel engine boasting a 46.3-liter displacement and producing 1167 horsepower (858 kW) at 1800 revolutions per minute. It features a tank with a capacity of 2,100 liters and has an operating weight of 152.6 tons as a bulldozer.
The Liebherr R 9800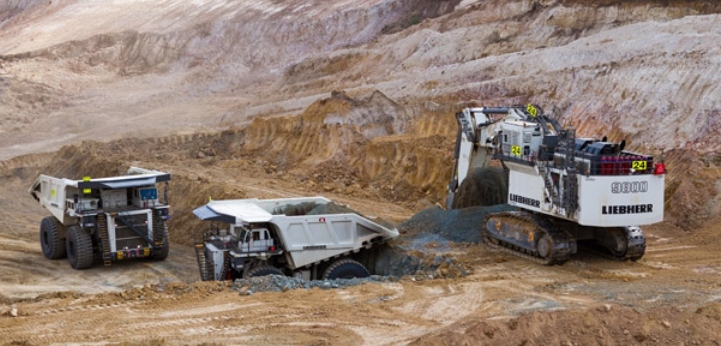 The mining excavator is a massive machine that can be powered by either diesel or electric drive. It has an operating weight of 800 tons when equipped with backhoe equipment. The diesel engine version delivers an impressive 2,984 kW of power and has a bucket capacity of 47.5 m³.
The Liebherr LR 13000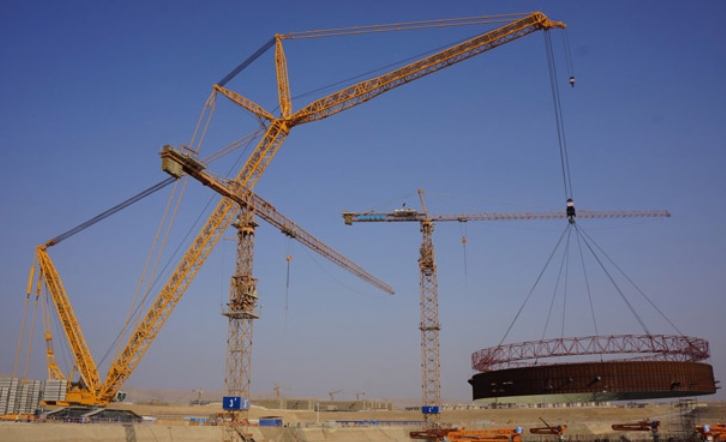 This model is a powerful crawler crane used for lifting heavy loads, particularly in power plant construction. It is considered the most powerful conventional crawler crane globally, with a maximum lifting capacity of 3,000 tons. The crane can lift loads up to a height of 236 meters and has a maximum radius of 200 meters. Despite its size, it can be disassembled and transported, with individual weights of up to 70 tons.
The Manitou MHT-X 14350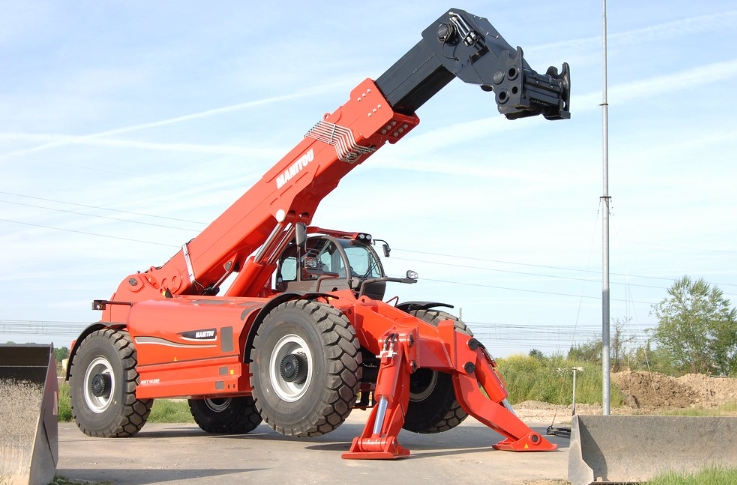 The telehandler is a robust 35-ton pallet truck equipped with a powerful 350 hp engine, high tractive force, and a remarkable lifting height of 14 meters. It operates smoothly on any type of terrain due to its four maneuverable wheels. This heavy-duty machine is perfect for lifting and transporting large and bulky materials in mines, quarries, and construction sites. For improved safety, the elevated cab of the MHT-X 14350 features cameras that provide better visibility.
The Vögele Super 3000-2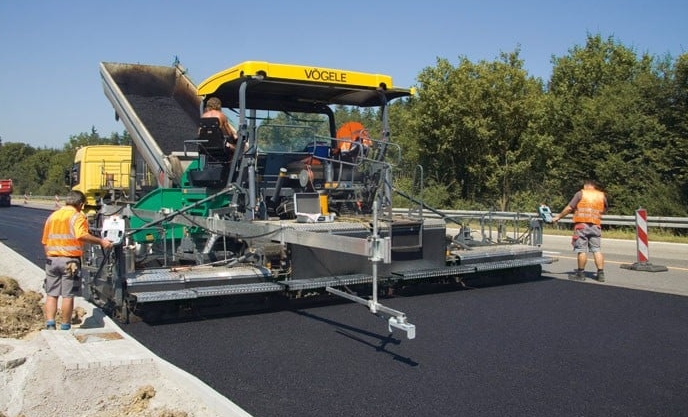 The machine is a top-performing asphalt paver, and the largest one in its class. Its capabilities are truly impressive, with a paving width that can reach up to 18 meters and a laydown rate of 1,800 tonnes per hour. This makes it a great choice for major infrastructure projects like airports and highways.
The Putzmeister 70Z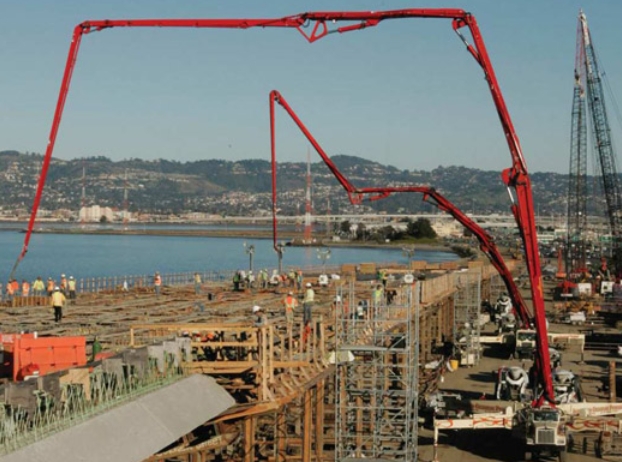 The Putzmeister 70Z is a highly adaptable and efficient concrete pump. It boasts an exceptional vertical reach of 70 meters, making it ideal for pumping concrete to great heights. This versatile pump is suitable for a range of projects, from high-rise construction to bridge building. In 2011, the 70Z proved its adaptability during the nuclear disaster in Fukushima, where it was used to cool the reactor. Depending on the configuration, the weight of the concrete pump is approximately 50 tons.
The Caterpillar PL87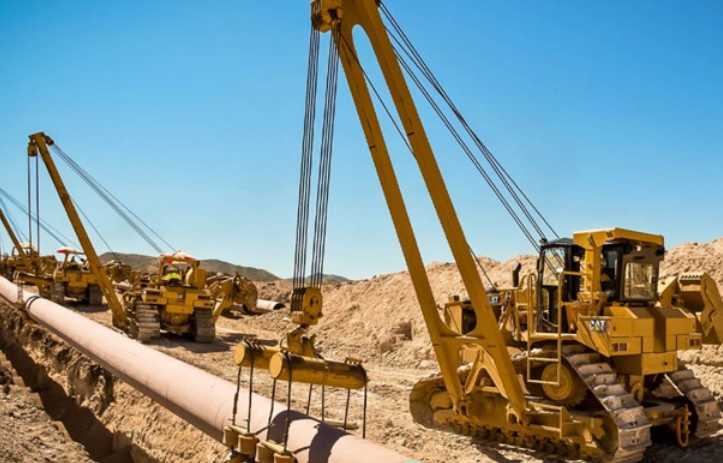 Designed for demanding environments like the oil and gas industry, the Caterpillar PL87 is a powerful pipelayer. It weighs approximately 59 tons and can lift up to 90 tons, providing high stability and efficiency when laying heavy pipes. The pipelayer's chassis is designed for maneuverability even in difficult terrain. Without the boom, it measures 6.1 meters in height, 4.8 meters in width, and 6.4 meters in length.