Hamm is introducing six new models in the 7- and 8-tonne range to expand their HD+ series of asphalt rollers. Among these models are the HD+ 70i and HD+ 80i. These models, compliant with Tier 4 Final/Stage V standards, come equipped with Hamm's Easy Drive operating concept as a standard feature. They are also digitally ready, with interfaces that allow seamless integration with digital applications.
Hamm recognizes the importance of digitalization in enhancing compaction quality. To facilitate this, they have incorporated the necessary interfaces in their equipment to connect with telematics and fleet management systems. Additionally, they have included Smart Doc, an app for compaction control and documentation. All models in the line, including those with Tier 4 Final/Stage V engines, are equipped with digital interfaces, ensuring that the entire range is ready for seamless integration with digital solutions across different weight classes.
Easy Drive is a user-friendly operating concept designed by Hamm to simplify the operation of their machines. It ensures a consistent control look and layout across different models, making it easier for operators to familiarize themselves with the equipment. For instance, buttons serving the same function are standardized in terms of color across various cabs, and the positioning of controls remains consistent as operators switch between units. This approach enhances ease of use and ergonomic operation, improving overall efficiency.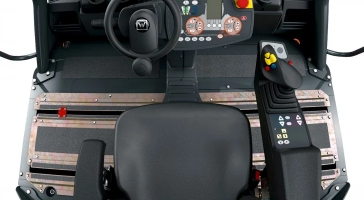 The HD+ models offer versatility with options for vibration, oscillation, or combination rollers. Despite their compact size, these rollers are engineered to deliver efficient compaction while exhibiting comparable driving and handling characteristics to their heavier counterparts in the series. Their compact proportions enable enhanced maneuverability, making them well-suited for navigating tight construction sites with ease. This combination of economic compaction and maneuverability makes the HD+ models a reliable choice for various construction projects.
The HD+ series offers the SmartDoc app as an optional feature, enabling the transmission of essential operational data to a smartphone or tablet via Bluetooth. This allows operators to monitor real-time compaction progress. Additionally, the app integrates machine data with GNSS position through the use of a Smart Receiver, providing accurate location information. SmartDoc leverages this data to generate compaction reports in PDF format, facilitating self-monitoring and continuous compaction control (CCC). In the near future, SmartDoc will also have the capability to aggregate data from all connected rollers on a construction site. This comprehensive view will allow each roller to display the overall compaction achieved by the team, providing real-time visibility for management.
The telematics solution offered by the John Deere Operations Center is not limited to agricultural applications but can also be utilized for managing construction sites. It encompasses various functionalities such as planning, monitoring, maintenance, and analytics. This enables roller operators to efficiently carry out maintenance and diagnostic tasks while also benefiting from targeted analyses of their operating behavior. By adhering to routine maintenance schedules, roller availability is maximized, and the risk of unplanned downtime is mitigated.